Our Experience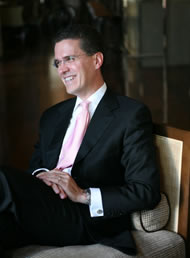 The Firm's founder and principal is Paul C. Jorgensen.

Admitted to practice in both the District of Columbia and Maryland in 1988, Paul brings over 20 years of legal practice and business experience to the Firm.  That experience includes acting as a senior intellectual property and contract counsel at the Washington D.C. law firm Patton Boggs LLP. Prior to his years with Patton Boggs, Paul was Senior Intellectual Property Counsel with Choice Hotels International, Inc., where he managed a large worldwide portfolio of trademarks, copyrights, domain names and trade secrets, and where he designed and managed profitable licensing programs. Paul began his legal career with the Washington D.C. firm Venable, Baetjer, Howard & Civiletti, where he gained substantial experience in writing, intellectual property and franchising.  Through this experience, Paul has successfully prosecuted many U.S. and international trademark, copyright, domain name applications, and has designed and negotiated hundreds of successful contracts and licenses.

Paul is a 1988 graduate of the Georgetown University Law Center in Washington, D.C., and a 1985 graduate of Lewis & Clark College, Portland, Oregon.

Paul is a popular public speaker and frequently instructs attorneys, financial professionals, entrepreneurs and other business people on a variety of subjects.
He contributes writings to the Journal of Intellectual Property Law & Practice and serves on the ALI-ABA Intellectual Property Advisory Panel. Paul also illustrated the legal books, Model Witness Examinations, published by the American Bar Association in 1997, and Pleading Causes of Action in Maryland, published by the Maryland Bar Association in 1992.
Paul provides ongoing pro bono legal services to the community civic and arts groups, and was honored for his service with the District of Columbia Mayor's Arts Award in 2004.   He is active in the Washington D.C. area community, is a Scout leader, and directs the Lewis & Clark College D.C. Semester program.